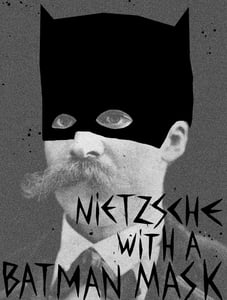 €

115.00
Nietzsche as Batman
Christophe Lambert scraped his knees and needled his body as he resisted the obvious paths presented to a young artist. His eclectic body of work includes film, collage, paintings, illustrations and installations.
Working independently since the early 1990's, Lambert has appeared in an arm's length of international publications, while his CV boasts ten years of solo and group exhibitions in cities such as Basel, Barcelona, Berlin, Cologne, Hamburg and Brussels.
With his work, Teenage Black Heart, we find Christophe Lambert amazed at improvements to photocopy technologies and sharing a series of 44 Black and White posters whose conception began during his last show, 'Waiting For Better Times' while he earned money working in a local copy shop.
In this body of work we recognize that Christophe isn't waiting for anything, but is constantly scratching at the surface of things.
Mickey mouse isn't safe, nor is Nietzche, Sascha Grey or your little sister's stuff animals.